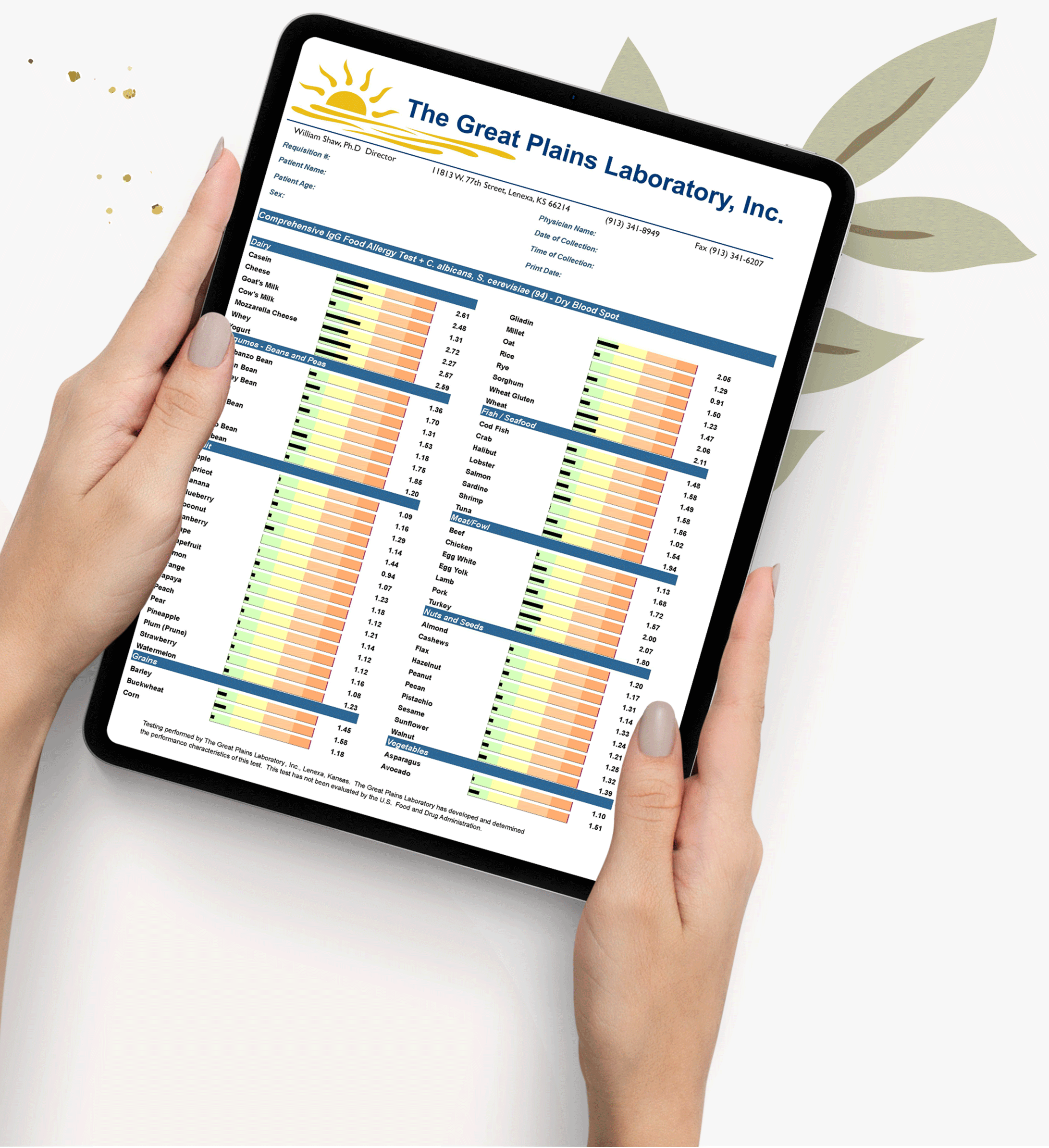 Get answers to your food-based health mysteries by testing 190 common foods. The tests you usually get for food allergies by your primary care doctor are for IGE food reactions, which typically are severe or life-threatening . This Food Sensitivity Tests looks for IGG food sensitivities that don't often occur for 24-72 hours after eating and can heavily contribute to inflammation in the body.
Muscle
Weakness
Learning
Disabilities
Mystery Pain
and Stiffness
This is the #1 test to check your delayed food sensitivities.
Your lgG antibody reaction to 190 foods.
Rates reaction on a scale: not-significant, low, moderate and high
Also tests for Candida albicans
Frequently Asked Questions
What should I do prior to my blood spot collection?
Hydrate with plenty of water (2-4 eight-ounce cups) a few hours prior to collection.
If there are certain foods you are specifically curious about testing, you can eat them 2-3 days prior to collecting the sample, (however, the test will still pick up other foods that have not been eaten).
Can I take this test if I'm on immune suppressants?
As this lab is testing for an IgG reaction, if you are on immunosuppressants the results will not be accurate and we do not recommend using this lab at this time.
What if I can't get enough blood to fill my spot card?
If more blood is needed, wipe with an alcohol pad again and massage finger to assist blood flow. Be sure to use the additional lancets provided as each lancet is for one-time use only.
How do I send back my sample?
All labs are done at-home and you can send them back to the lab using the pre-paid FedEx envelope, which is provided in each lab.
How long does it take to get my results?
It typically takes around 4 weeks to receive your lab results back.