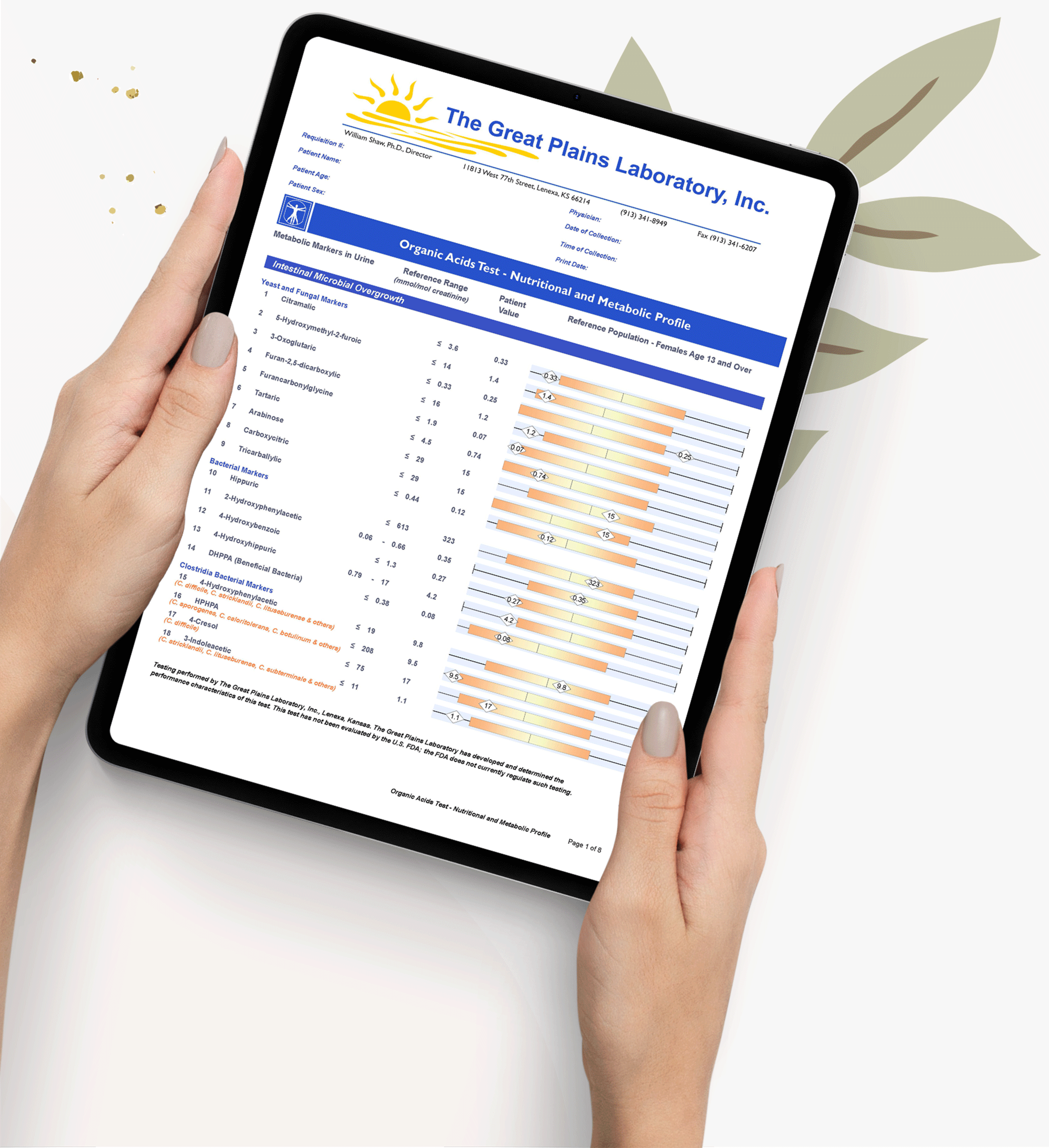 This is single handedly the best lab test If you were to run only one lab test to assess the overall state of your digestion, microbial probiotic balance, and gut health.
The test has over 75 biomarkers & will show you exactly what your deficiencies are in terms of vitamins, energy mitochondria producers, neurotransmitter metabolites, and detoxifiers.
Digestive
Issues
Mood
Irregularities
Immune
Dysfunction
Find Out More About Your Gut
Intestinal & Microbial Markers (By Group)
Yeast & Fungal; Bacterial; Clostridia Bacteria; Oxalate Metabolites; Glycolytic Cycle Metabolites; Mitochondrial Markers (Krebs Cycle Metabolites); Mitochondrial Markers (Amino Acid Metabolites); Neurotransmitter Metabolites; Pyrimidine Metabolites (Folate Metabolism); Ketone and Fatty Acid Oxidation
Vitamin B12; Vitamin 86; Vitamin BS; Vitamin 82 (Riboflavin); Vitamin C; Vitamin Q10 (C0010); Glutathione Precursor; Biotin (Vitamin H); Indicators of Detoxification; Amino Acid Metabolites
Frequently Asked Questions
When should I collect my sample?
Collect the first-morning urine in the collection cup, prior to any eating or drinking.
How do I send back my sample?
All labs are done at-home and you can send them back to the lab using the pre-paid FedEx envelope, which is provided in each lab.
How long does it take to get my results?
It typically takes around 4 weeks to receive your lab results back.
Do I need to avoid anything prior to collecting my urine sample?
Please avoid apples, grapes, pears, cranberries (whole and juice products). Also avoid arabinogalactan, echinacea, reishi mushrooms, ribose supplements, 48 hours prior to collecting.