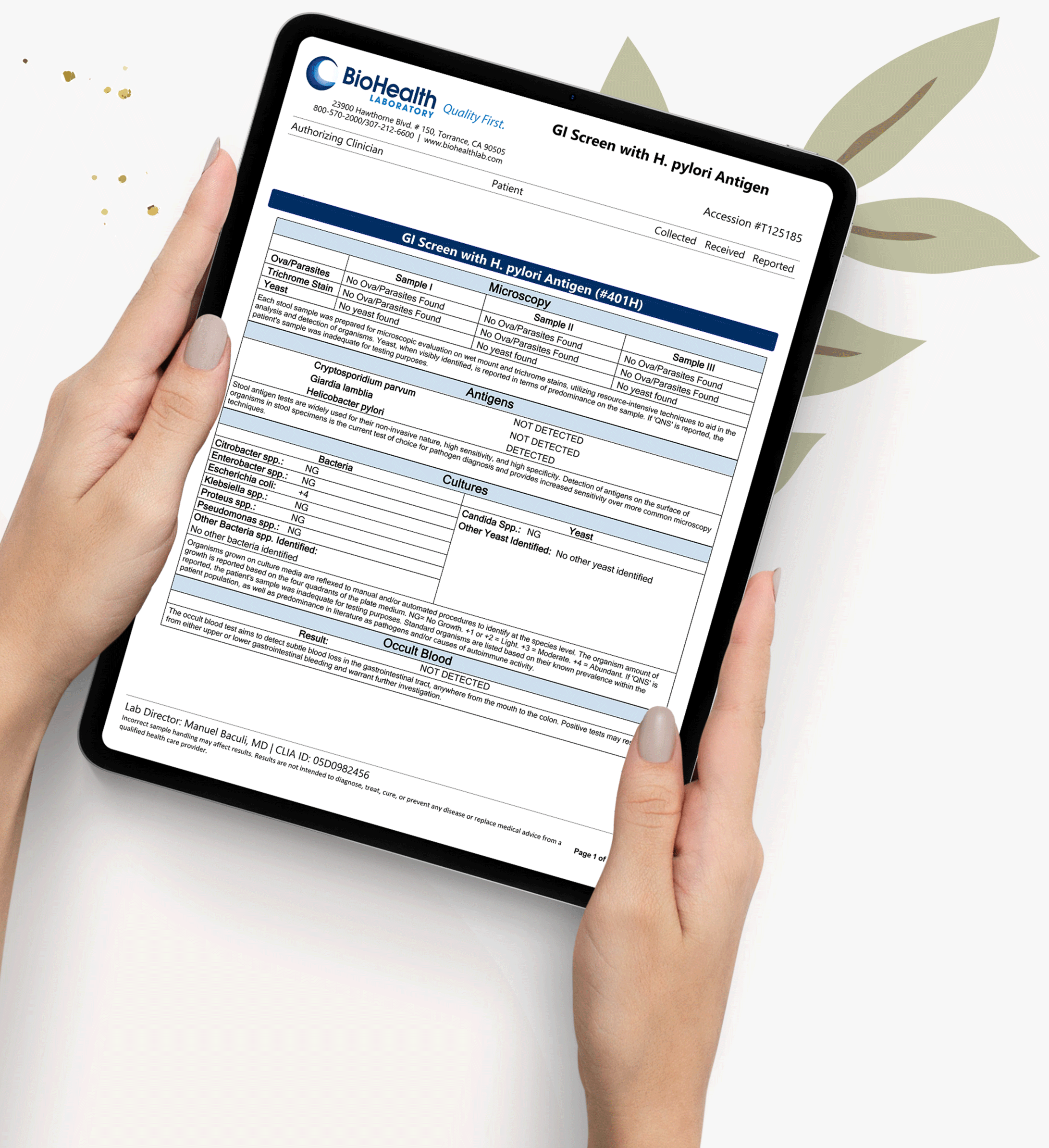 If you've been experiencing bowel dysfunction, unexplained body pain and headaches, and typically don't feel well, it may be that your microorganisms that have become out of balance (or present) in your intestines.
Your stool can uncover the presence of specific antigens or protein fragments in the sample which is a physical representation of the presence of parasites, bacteria and whether there is any blood present in your sample.
Nausea &
Vomiting
Blood or
Mucus in Stool
This is the #1 test to check for parasites & bacteria in your intestines.
Expected/beneficial bacterial flora; Opportunistic (imbalanced) bacterial flora; Dysbiotic bacterial flora; Normal yeast; Dysbiotic yeast
Protozoa; Nematodes (Roundworms); Cestodes (Tapeworms); Trematodes (Flukes)
Yeast; Red Blood Cells; White Blood Cells; Charcot-Leyden Crystals; Pollen
Immunoassay/Stool Antigens
Cryptosporidium Parvum; Giardia Lamblia; H. Pylori
Comprehensive Stool Analysis
Digestion/Absorption Markers; Inflammation Markers; Short Chain Fatty Acid Markers; Occult Blood (microscopic blood in the stool)
Frequently Asked Questions
Do I need to collect my samples on 3 consecutive days? What if I don't have a bowel movement every day?
The days you collect your samples need not be consecutive, but please keep in mind that collected samples that are kept at room temperature are only viable for testing up to 20 days from the date of collection. The frozen vial remains viable for several months.
The instructions say to freeze the clear vial. Should I freeze or refrigerate the other vials as well?
All of the other vials should be kept at room temperature. The other vials contain preservatives that may be altered if frozen or refrigerated.
How do I send back my sample?
All labs are done at-home and you can send them back to the lab using the pre-paid FedEx envelope, which is provided in each lab.
How long does it take to get my results?
It typically takes around 4 weeks to receive your lab results back.